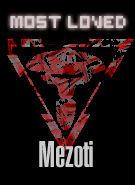 Mezoti's Bedtime Stories
"I am nothing original. I am the combined efforts of everyone I have ever known..."

"I'd rather live in a cottage with you than reign empress of the world without you."

"When someone loves you, the way they say your name is different. You just know that your name is safe in their mouth."
♥

I want to break every clock.
The hands of time could never move again.
We could stay in this moment for the rest of our lives.
Is it over now hey, hey is it over now?
I want to be your last first kiss
that you'll ever have.
I want to be your last first kiss.

Is it over now hey, hey is it over now?
Is it over now hey, hey it's not over now.
I want to be your last first kiss
that you'll ever have.
I want to be your last first love
that you'll ever have.
Lying here beside me, palms and eyes open wide,
I want to your last first kiss
for all time.



I want a love that I donít deserve
I want the gold that I didnít earn
I want a fire that will never burn
I want you there, I want you here tonight