Current Issue
Past Issues
Links

:: The Blue Report :: Issue 56 :: February 2015
[Article List]

Promotions January 2015 [by Sector Command]
Promotions
The following members have been promoted for the month of January 2015. Your records have been updated accordingly.
To CL3
---
Awards
Outstanding Citizenship: Jarek (CL5). Earlier this week, Casey Anderson - aka Lieutenant Commander Jarek - tragically passed away following illness. Jarek has been an integral part of the OTF community for well over a decade, contributing to Trivia and Entertainment as well as to the community as a whole. The Executive Council wishes to honour Jarek with a posthumous award, for his service to Entertainment and to OTF over the years. Here's to Jarek, Outstanding Citizen, and our friend.
---
Congratulations and thanks to all of you for your contributions to Outpost 10F!
[Article List]

Trivia Team
: The Trivia Team is looking for people that are able to host or assist if needed, Basic or little HTML Knowledge, People skills and knowledge. Interested persons please contact
CL5 Cameron
Simming Team
Wanna have fun and be creative?! Come join the simming team today! Ask
T'Pel Kestra
for details TODAY!
Marketing, Unions, and Blue Report teams within Communications Department is hiring. Interested persons can click here to go to the Communications Department Homepage. Just click on Apply and enter the appropiate information requested by the form.


[Article List]

10 Questions with Dalek Caan [by Richard Smith]
We seen quite a few new face in the Outpost Recently and it is our mission to help you get to know as many of them as posible. With that in mind I sat down the Dalek Caan to give him the third degree...minus the bright lights.

BR: So tell us some more about you?

DC: My real name in Jonathan, I live just east of Houston. I'm a mediocre baseball fan, Go Astros! And I'm trying to learn about soccer.

BR: How did you find the Outpost?

DC: Google. I searched for Lord of the Rings chat rooms and this one came up. After finding out there was a Dr Who section, I switched over.

BR: Of the people you've met so far, do you have any favorites?

DC: Favorites...? Not sure, there are some people that I see on more than others, but not sure yet as to favorites.

BR: Does your Handle have any special meaning?

DC: Dalek Caan was part of a group of Daleks that were supposed to think differently than other Daleks. He ended up being one of the last Daleks in existence, or so we thought.

BR: What got you interested in Sci-Fi?

DC: The movie Stargate. Ever since then, I have grown to love most Sci-Fi stuff.

BR: If you could meet anyone with Sci-Fi-dom, who would it be?

DC: I'm not sure if this counts, but Bear McCreary. He did the music for Battlstar Galactica, The Sarah Connor Chronicles. He does the music for The Walking Dead, Black Sails and a few other shows.

BR: David Tennant or Matt Smith?

DC: Yes!

BR: What do you like to do away from OTF?

DC: Video games. I also am a musician, I play piano, bass and tuba. I regularly play bass for a few community theaters in my area.

BR: Is there anything you would do to improve the Outpost experience?

DC: I haven't found anything yet that I would change.

BR: Anything else to add?

DC: From the day we arrive on the planet, blinking, step into the sun, there is more to see than can ever be seen, more to do than - no, hold on. Sorry, that's The Lion King...


[Article List]

We start off the Blue Report with news of an Antman trailer released in early January. This was followed by news that Doctor Who had it's most watched season in recent history, including good ratings for the recent Christmas special, entitled "Last Christmas". The next article came to us from Gotham, focusing on Morena Baccarin joining the program as Arkham Asylum physician Dr. Leslie Thompkins, an ally of Jim Gordon.


The next article goes back to a galaxy far, far away. Billy Dee Williams did a bit of voice acting as Lando Calrissian for the animated show. Star Wars: Rebels. January 12th brought us the first of two Avengers: Age Of Ultron trailers. A few days later came more information regarding the Heroes Reborn limited series - specifically that Zachary Levi, previously of "Chuck" is tied to the show.


Mid-month, Whovians got a scare as it was reported Nextflix and the BBC couldn't come to terms re-negotiating their contract, but then they worked it out. The Fox network confirmed that a reboot of the highly successful X-Files franchise was in the works, and that talks with both David Duchovny and Gillian Anderson were underway, to that end. January 20th brought a Season 5 trailer for The Walking Dead. The show returns from its midseason hiatus on February 8th at 9PM on AMC.


After the news of Roberto Orci being less involved in the next Star Trek movie, the franchise may have gotten the information boost it needs, as it was reported that Simon Pegg, the younger version of Scotty, will be co-writing the next installment. Staying within the Star Trek universe (sort of) it was reported that Patrick Stewart would be narrating a movie about NASA's intent on going to Mars, called "Journey To Space."


The Marvel universe as we know it (at least in the comics) is ending. But with all endings such as this, expect a reboot - which means new origin stories, new heroes and villains and overall new plots. Speaking of, the trailer for the upcoming Fantastic Four movie reboot hit the web on January 27th. This was just one of four trailers that rounded out the month. The others were for Season 5 of Game Of Thrones, the second Age Of Ultron trailer (to premiere during the Super Bowl), and the trailer for Terminator: Genisys, also ahead of it's scheduled release during the Super Bowl.


Want to read more? Then check out the Blue Report on Facebook!


[Article List]

On Screen Movie Review: Paddington [by Richard Smith]
Ok, do I know it isn't a sci-fi movie, but for this month's On Screen Movie Review, I'm going to take a look at "Paddington". Before seeing this movie with my children over the weekend, I already had a soft spot for the character, having watch the cartoonish version many years ago. I was quite interested to see what they would so with it.


The story revolves around a young bear, who having lost his dear Uncle and his home in a natural disaster,is sent off by his Aunt to find a home in London. They are familiar with the British city after being introduced to the wonders of the world by a visiting explorer. After stowing away on a ship and surviving on Marmalade he reaches London, where an eccentric family takes him in on a temporary basis, adventures ensue, a "villian" comes out of the lab, and lives change.


So what did I think? Well I happen to think the movie was quite well done. I haven't ever looked up any of the source material for Paddington, so I don't know how true they were to the original stories, but I enjoyed the heartwarming aspects and the slapstick humor of it all. It's not a terrible long movie which is nice. It doesn't drag out the story and put our friend in unnecessary peril. There's not a whole lot to object to in this one, plus fans of Doctor Who will get to see Peter Capaldi, a definite plus.


My kids, whom this movie targets enjoyed it and it took me back to days gone by. Those of us with kids will really enjoy a flick without all of the attention grabbing effects that are used these days, and for those who dont have kids, it might make a nice date movie. I'm giving Paddington 5 Outposts out of 5.


[Article List]

Captain T'Pel Kestra here, just providing an update for the OTF Simming group. This group roleplays by way of a posting system, so after revisions, the whole of the mission gets posted for others viewing pleasure. Sort of like a fan fiction piece, just with Multiple authors. It has been a little slow moving, but the USS Maxwell does have life. If you doubt me, here is a link to one of our latest posts. I am sure there are others in the works as well.


[Article List]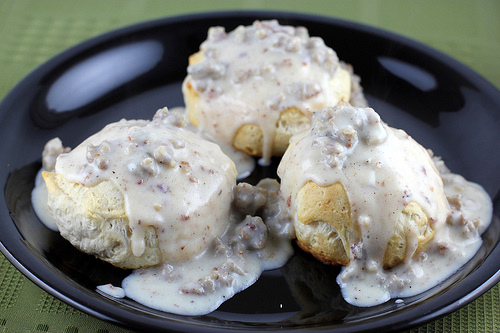 This is a quintessential ingredient in many southern breakfasts; many restaurants in the South United States pride themselves on their biscuit and gravy recipes. This also goes great with a country fried steak or chicken dish. I have even used this with mashed potatoes for a different take. I have found this by trial and error and mixing up meats does well, I even take a few clumps of sausage, ground it up finely and add it to the gravy after all is said and done for some added flavor. Here's the how to:


Ingrediants


2 tablespoons of olive oil
˝ lb (.25 kg) of pork sausage (I personally use ground pork, Italian seasoned sausage
˝ Cup all-purpose flour
1 teaspoon black pepper
1 teaspoon kosher or sea salt
2 cups milk (calls for 2% milk or whole)
Directions


In a skillet, cook sausage thoroughly until browned, DO NOT drain the skillet of drippings. Remove meat from heat and set aside.
Add flour to the drippings and stir until the flour is dissolved and takes the form of a fine paste, if you find the mixture it too light, then add more flour by teaspoons.
Stir in the milk very slowly, whisking so that the mixture does not become clumpy.
After the gravy thickens add sea salt and black pepper and whisk until finely mixed.
[Article List]

Young Warp loved traipsing the desert. He'd been a desert rat ever since he saw those UFO's from his back yard in 1957 when he was 15. He trodded the barren terrain by day observing lizards, horned toads, tortoises and the occasional sidewinder. At night, he would lie on his back and gaze at the myriad stars of which the sky was literally ablaze. He favored the desert above all places precisely because of the clarity of the night skies there. Nevertheless, on those occasions he was able to make the trek, he never again saw any opaque discs, or any other signs of extra terrestria for that matter. Still, he ramained undaunted.

The remainder of the fiction story:.
[Article List]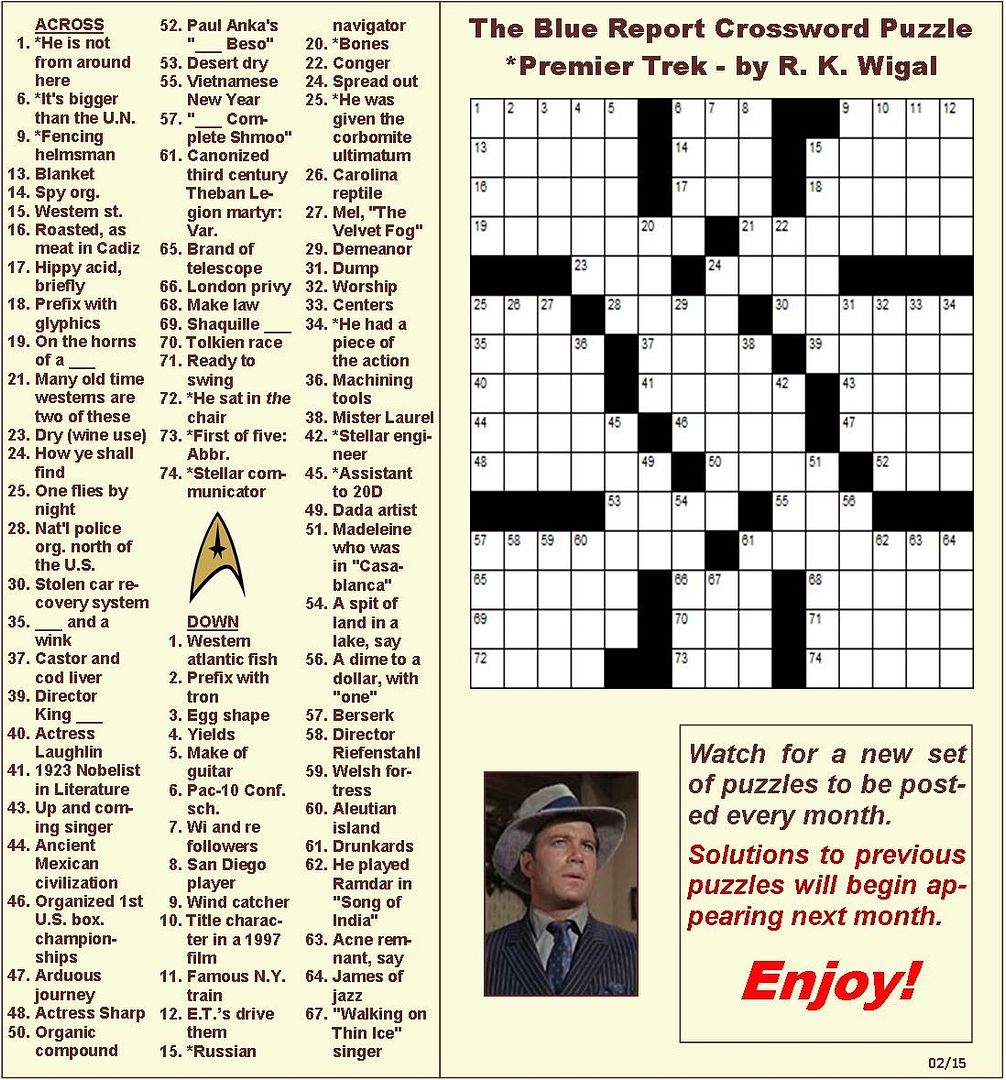 [Article List]

All puzzles and crosswords used with permission of SF Warp


[Article List]

Here you go!
Time to dance!
[Article List]