Letter from the Editor [by Wyvern]
Welcome to the March Edition of the Blue Report!
This is a very special edition of the report as it's the very first one with the new design! Shane, Katrina, and Al have worked tirelessly for almost a year to bring a new design out for the Blue Report and their efforts have finally been able to bear fruit. I would definitely like to thank them for their hard work, their patience and any hassle they have gone through since last April to get this redesign done. Shane goes into more detail about the design itself in an article so I will let you guys get right to that instead.
I would also like to welcome a new staff member of the report, Keith has been contributing articles consistently for a few months now and it only seems right that we brought him on officially.
This edition has a lot of great articles and contributions from some pretty awesome people and I can't wait for you to read it!
Leslie
Blurb from the Bridge [by Bridge Crew]
This month we are going to talk about Prime Directive 1. First, we will review it, as stated in the PDs:
The Outpost is an assembly of a diverse variety of individuals, with a large variance in cultures and lifestyles. However, everyone has in common his/her humanity.
Practice the 3 R's:
-
Respect
for others;
-
Respect
for self;
- Take
Responsibility
for your own actions.
We recognize and understand that everyone will not get along all the time. That said, there should be a certain level of understanding that, while in chat, and within other OTF-sanctioned spaces that may or may not be OTF chat rooms themselves, (Discord, OTF-sponsored game servers, etc), we should strive to be, at a minimum, cordial. This, of course, applies to our old friends and the newest members equally.
We will not accept rudeness, whether it's outright hostility or passive-aggressive jabs meant to incite someone we don't like. OTF should be a place where anyone and everyone can come and take a break from life and chat about whatever is going on, without fear of hostility or judgement. We take this idea very seriously and work hard to create an atmosphere that is welcoming to all.
All we ask is that chatters young and old abide by this simple rule. We will be taking steps to ensure that the atmosphere in chat remains a positive and welcoming environment for all.
Thank you from the Bridge.
Well, this is an exciting month! After months of work, the Blue Report Redesign is finished! Yay!
As I'm sure you noticed, the Blue Report now looks different, but also the same. We used parts that we liked from the old Blue Report, and simply updated them to a more modern design, using newer elements of HTML5 and CSS3. We liked the way things worked before, but Leslie and Carol needed to make it their own. They're the editors now afterall. They also wanted to make sure that it also worked a little better on mobile devices as well.
The page now uses elements of HTML5, CSS3, jQuery, Bootstrap, and Fontello/Font Awesome. This allows us to design the Blue Report to work on phones, tablets, and PC's, scaling nicely, while at the same time, keeping the size of the site small. Using fonts instead of images for example, helps to reduce the size of the page, making it better for mobile users with limited data. It also helps the page load faster, which of course, everyone wants.
We worked at making sure the site was user friendly, while also hiding needless stuff, but keeping it close at hand as well. The article list for mobile users follows you as you scroll, hidden in the hamburger menu. Just clicking on that will show you article list, letting you jump from article to article.
We also added in buttons to help make it easier for sharing the Blue Report on Twitter and Facebook. So make sure to share this with everyone! We don't however use the official buttons from Facebook and Twitter. This was done to help increase the speed that the site loads.
The comment limit has also been doubled. 250 characters just isn't enough at times. It's now up to 500 characters. You'll also notice that articles with and without comments are a different shade of blue. This is to help show if there are comments or not for that article. So make sure to comment so they can all be a light blue! We like comments..
All the past issue links have been moved to their own page. If you scroll to the bottom of the page, and click on 'Blue Report' in the footer, it will display a link to past issues, the disclaimer and credits page. The past issues page now gives more details about past issues than previously, allowing you to find articles that might interest you more easily.
We also added in Google Analytics. At the moment, this is the only page on OTF to use Google Analytics. We're hoping to find out how many people are reading the Blue Report every month. We're hoping that perhaps we can learn more about the people visiting the Blue Report, and maybe figure out how to get people to comment and interact a bit more. We know some people do read our issues, which we appreciate, but we'd like to figure out how to get people commenting as well. Any thoughts would be greatly appreciated!
I would like to thank Katrina and Al for their patience through this process. Working with a language that I've never used before has been a bit of a challenge at times. So thank you for your patience, and assistance in getting the page doing! I'd also like to thank Carol for assistance with the colouring, suggesting the hamburger menu, floating side menu, and some other ideas. Also thank you, again, to Carol and Leslie for not only their feedback and patience but for also co-writing the credits and disclaimer pages. (Those pages can be found at the bottom of The Blue Report in the footer links.)
What do you think of the redesign? Thoughts, comments, questions? Please, let us know!
A Wee Collection of Irish Drinking Songs [by Carol]
Ohai there!
Did you know that St. Patty's Day or, if you prefer Saint Patrick's Day, is this month? It's on March 17th! That's exciting right? An excuse to dress up in green and party! Yay! In the spirit of St. Patty's Day I've collected eight Irish drinking songs. You
don't
necessarily have to be drinking to listen to these songs; they're great fun sober! But they'll certain put a jig in your step while having a pint on St. Patty's Day! Interested? Give these songs a listen...

The Pogues:
Fairy Tale of New York
Note: This could technically be classified as a Christmas song but whatever. It works.

The Clancy Brothers & Tommy Makem:
Whiskey You're The Devil

The Rumjacks:
An Irish Pub Song
Note: Language warning! There's a no-no word used in this song you may not want your kids to hear.

Celtic Thunder:
Seven Drunken Nights

The Dubliners:
Whiskey in The Jar

The Irish Rovers:
No Nay Never (Wild Rover)

Sharon Shannon & Mundy:
Galway Girl

The Clancy Brothers:
Beer, Beer, Beer

If you're having a St. Patty's Day party? Definitely throw in at least a couple of Irish drinking songs. It'll certainly add to the spirit of the party. Or if you're celebrating by yourself? Sing along to the songs as loud as you want! It'll be fun!
Are you having a St. Patty's Day party? Will you listen to Irish drinking songs? Let us know in the comments!
Dear OTF,
Don't eat raw chicken. Platonic or romantic, tell the people you love that you love them, eat more veggies, shower more, watch Grey's Anatomy, and don't drink the water in Ontario.
P.S. grow a beard
P.P.S. Shane still smells like butt
Love always,
Kifilus
The Mars rover Opportunity has died. After 15 years exploring Mars, and searching for signs that water exists, or once existed on the red planet, the rover's mission has finally ended.
Launched in 2003, and arriving on January 25th, 2004, the rover, whose mission was only supposed to last 90 Sol-days (92.5 Earth days), ended up lasting for 5498 Sol-days instead. The 6 wheeled rover managed to travel 45km's across the Martian surface before a planet wide dust storm killed it.
The last message was sent on June 10th, 2018, just before the dust storm hit. The solar array was unable to gather enough light, and Opportunity shut down. In August, after the dust had settled, NASA began trying to contact the little rover. For eight months, NASA continued trying to call, hoping for a response. But all good things must come to an end. Though Opportunity is no longer traveling across Mars, NASA still has a lot of information to dig through and study. Including the evidence that Mars was once a warm, wet planet in the past.
"It is therefore that I'm standing here with a sense of deep appreciation and gratitude to declare the Opportunity mission as complete, and with it, the Mars Exploration Rover mission as complete." said Thomas Zurbuchen.
Opportunity had a twin rover, Spirit which landed just two weeks earlier. Spirit, however, stopped communicating back in 2010.
Opportunity had been through a lot on Mars. It got stuck in sand traps several times, avoided many more sand traps, it traveled down into craters, it found evidence of a watery past, and it lasted a lot longer than anyone expected it to.
Below is a video that NASA released about Opportunity.
Did you follow the mission? What are your thoughts on its discoveries? Let us know below!
Story Time with Random Ranting Robert [by Mr Numbahs]
What's a cream pie?
Well, when two people love each other, or have had too much to drink let's not judge.. they go to the store then realize that cream pies cost too much. So they admit defeat and return to their castle. Castle if you believe the listing agent anyway. They got solace in the act of watching Game of Thrones. Getting some ideas on baby-making from there, they decided oh well and went in search of a place to adopt dragons. Everyone has children these days, but dragons? Soon they shall be the coolest parents in the world. All while playing Pokemon GO on their phones. Anyway, a cream pie is something you get from the store, you perverts.
Disclaimer: This is a story about
going to the store for pie
AND
adopting dragons
!
Discovery Season 3, Nickelodeon and Frakes to Direct Stewart [by Mashed Potatoes]
There has been some new Star Trek news lately, with some of it coming the day of my Blue Report deadline. So, best to get to the great news!
Star Trek Discovery has been officially renewed for season 3. Announced by Twitter, CBS confirmed the news, and announced that Michelle Paradise, who joined the writing staff half way through the second season, will be promoted to co-showrunner for the third season. It's expected that the third season will start filming this summer, and air in mid 2020, after the first season of the untitled Picard Series finishes.
CBS ALL ACCESS RENEWS "STAR TREK: DISCOVERY" FOR THIRD SEASON

Feb. 27, 2019 - CBS All Access today announced the third season renewal of its hit original series STAR TREK: DISCOVERY. It was announced that Michelle Paradise will join Alex Kurtzman as co-showrunner of STAR TREK: DISCOVERY's third season. In addition to his role as showrunner of STAR TREK: DISCOVERY, Kurtzman will continue to oversee the expansion of the growing "Star Trek" universe for CBS Studios.

"Michelle joined us midway through season two and energized the room with her ferocious knowledge of 'Trek,'" said Alex Kurtzman. "Her grasp of character and story detail, her drive and her focus have already become essential in ensuring the 'Trek' legacy, and her fresh perspective always keeps us looking forward. I'm proud to say Michelle and I are officially running STAR TREK: DISCOVERY together."

"The massive success of STAR TREK: DISCOVERY's second season launch exceeded our expectations in both driving subscriber growth and generating a phenomenal response from 'Star Trek' fans," said Julie McNamara, Executive Vice President, Original Content, CBS All Access. "With Alex Kurtzman and Michelle Paradise at the helm, we look forward to continuing STAR TREK: DISCOVERY's journey, growing the 'Star Trek' franchise on CBS All Access and bringing fans new 'Star Trek' stories for many years to come."

Prior to serving as co-executive producer on STAR TREK: DISCOVERY's second season, Michelle Paradise was co-executive producer on the television series "The Originals" on The CW. She also wrote for the series "Rogue" on the Audience network and The CW's "Hart of Dixie." Additionally, Paradise created, wrote and starred in the MTV/Logo series "Exes & Ohs."
-----------------
In other news as well, a Star Trek animated series could be coming to Nickelodeon. While not much has been released about it, it would seem that Kevin and Dan Hageman are the current writers for the kids cartoon show. They're known for having worked on "Ninjago: Masters of Spinjitzu", "Trollhunters", "Hotel Transylvania", "The Lego Movie" and "The Lego Ninjago Movie". This will be the second animated series to be announced this year, with "Lower Decks" being the first.
Some more news has been released regarding the unnamed Picard Series. It seems that Jonathan Frakes will be directing his TNG co-star once again. The 10 episode series is set to begin production in April. This of course isn't the first time that Frakes has directed Stewart, or an episode of Star Trek. Frakes has directed 8 TNG episodes, 3 DS9 episodes, 3 VOY episodes, 2 DIS episodes and 2 TNG movies. Though Frakes does say that there is a difference between directing TNG and DIS.
-----------------
"The thing about the new Star Treks, like Discovery, is they are very much in the J.J. [Abrams] world of very cinematic. A lot of moving camera. A lot of crane work. So, it is frankly more fun to shoot than sitting on a dolly and looking at a close-up that doesn't move."
-----------------
Which Star Trek news are you most excited about? Is there is a piece of news you're hoping to hear more about? Comment and let us know!
Welcome to Cooking Tips With Keith! This week Keith's tips are...
When cooking bacon, it's best to be fully clothed.
Wash hands
BEFORE
going to the bathroom after handling peppers. Remember: touched peppers? No touch peepers.
A mirepoix is a 2-1-1 ratio of onions-celery-carrots.
When cooking a steak, cook to about ten degrees below your target internal temp. Resting under tin foil will raise the temp the last ten degrees.
Don't cook with Shane. He smells like a butt.
Stay tuned for more tips next month!
Maybe!
Quick and Easy Green Snacks [by Carol]
Hey guys!
It's the month of March and March brings us St. Patty's Day. Lots of people celebrate St. Patty's Day by going out to the pub. Some people celebrate by throwing parties. And some people don't celebrate it. If you're one of those people who don't celebrate St. Patty's Day but enjoy green themed food? Keep on reading!
If you're throwing a party for St. Patty's Day I've composed a short list of
quick and easy
green snacks. By "green snacks" I don't mean they're environmentally friendly I mean green colored food. These snacks are really simple to make and super tasty. Comprising of sweet and savory snacks there will be something on this list for everyone.
Cupcakes:
Vanilla cupcakes are super easy to make green for St. Patty's Day. All you need is green food dye and sprinkles. Add the food dye to the icing and make green icing. Or add the dye to the cupcake batter itself and make the cupcakes green. You can even make
both
the icing and cupcakes green! For a little green shimmer? Add green sprinkles.
Fruit Kabobs:
Fruit kabobs are a super healthy snack option for a party. To make a festive green one is really simple. All you need are kiwis, green apples, and green grapes. Put those together on a kabob and bam you have a St. Patty's Day Fruit Kabob!
Vegetables and Spinach Dip:
Veggies and dip are a wonderful snack. To keep the snack St. Patty's Day themed all you need is celery, green bell peppers, broccoli, and cucumber. Maybe zucchini if you're feeling bold. Slice those up and pair them with spinach dip then you're good to go!
Cookies:
When it comes to cookies they are pretty easy to make green. Like the cupcakes all you'll really need is green food dye and sprinkles. Just add the food dye to either the cookies or the cookie frosting (or both) to make them green. Then add sprinkles for some shimmer.
Guacamole and Chips:
Guacamole is green and screams St. Patty's Day. You can either pick some up at the store or
make it
yourself. Pair the guacamole with your favorite chips and you are good to go!
Green Apple Slices and Caramel Sauce:
For a fruity sweet snack try green apple slices with caramel sauce. The apples have a nice crunch and the sauce will cover any sweet cravings. Plus this snack is extremely easy when all you have to do is slice apples and buy the sauce.
Bacon Wrapped Jalapeño Poppers:
This last suggestion is my favorite because I love bacon wrapped jalapeño poppers. I love them a lot. But you can easily pick this up in the store or
make them
yourself!
If I was celebrating St. Patty's Day I would probably make almost everything on this list. I'd probably pass on the guacamole, cupcakes, and probably the apple slices. Mostly because I'm partial to things like the bacon wrapped jalapeño poppers and spinach dip. Plus kabob is fun to say!
Did you have a St. Patty's Day party? Did you celebrate yourself? Did you have any of these snacks? Let me know in the comments!
Staying healthy and maintaining our diets is hard, but don't worry, I'm here to share some more tips with you to help.
The average man should have no more than 30g saturated fat a day. The average woman should have no more than 20g saturated fat a day, and children should have less than adults.
Saturated fat is found in many foods, such as:
- Hard cheese
- Cakes
- Biscuits
- Sausages
- Cream
- Butter
- Lard
- Pies
Try to cut down on your saturated fat intake, and choose foods that contain unsaturated fats instead, such as vegetable oils, oily fish and avocados. For a healthier choice, use just a small amount of vegetable oil or reduced-fat spread instead of butter, lard or ghee. When you're having meat, choose lean cuts and cut off any visible fat.
We all need some fat in our diet, but it's important to pay attention to the amount and type of fat we're eating. There are two main types of fat: saturated and unsaturated. Too much saturated fat can increase the amount of cholesterol in the blood, which increases your risk of developing heart disease.
This month's Healthy Recipe is for Breakfast
Apple and Cinnamon Breakfast Pot
Fat-free Greek yoghurt is higher in protein than regular yoghurt and is a good source of calcium, which is important for healthy bones.
Each serving provides 200 kcal, 18g protein, 27g carbohydrate (of which 17g sugars), 1.7g fat (of which 0.3g saturates), 2.5g fibre and 0.15g salt.
Ingredients
- 150g/5½oz fat-free Greek-style yoghurt
- 1 tbsp rolled oats
- 1 small apple, grated
- 25g/1oz blueberries
- Pinch ground cinnamon
- Low-calorie sweetener, to taste (optional)
Method
Mix the yoghurt and oats together in a bowl, cover and refrigerate overnight.
When ready to eat, stir in the apple, blueberries, cinnamon and sweetener, if using. Serve.
What's your favourite healthy snack? Let Sasha know in the comments!
As some of you might know, Amazon is working on a Lord of the Rings TV Show. Which they are being very tight lipped about the show as well.
Not a whole lot is known about the show at the moment. We have writers, JD Payne and Patrick McKay, and a map. And.. well, that's really about all the moment. They are taking secrecy to an all new level at the moment. Which is nothing new for studios lately. They currently use security guards, fingerprint scanners and their windows are completely taped up. Right now, they're making sure that only a small bit is known about their show.
Rumours have been going around that it will be a prequel, revolving around young Aragorn. But with a map of Middle Earth just released, that is now in doubts. The map includes places like Calenardhon and Lindon, but doesn't include Arnor and Gondor. Calenardhon later becomes The Kingdom of Rohan. So this puts the map at about the Second Age, which is around the time that Sauron rises up, and the Rings are created.
Now of course, this doesn't mean that the show takes place then. It could just be something to throw us all off. Misdirection. It wouldn't be the first time that shows have done things like that in order to keep their secrets. Game of Thrones used drone-killers and filmed several different endings, Star Wars the Force Awakens had actors dress in the wrong outfits, just to make sure leaks didn't happen.
No release date have been given, or anything else. By the looks of it, Amazon is going to make sure that information on the show is released when they're ready for it to be released, and not before hand.
Peter Jackson, who worked on the movies, knows about the project, but there is no word yet on if he is going to be working on the project or not. Only time will tell if he is brought on or not.
Are you looking forward to the TV show? What are your thoughts on Peter Jackson returning to help? Comment below!
Book Review: Terrier (Beka Cooper, #1) by Tamora Pierce [by Mashed Potatoes]
Book Title: Terrier
Series: Book 1 of 3 in Beka Cooper Series
Author: Tamora Pierce
Genre: Young Adult, Fantasy
Published: October 2006

Below is my review, which contains some spoilers

This is a book that was recommended to me a little while ago. It's written in a slightly different way than most novels. It's written as journal entries, but also as a typical novel as well. Everything is from the perspective of Beka Cooper, but her journal entries are longer, and more detailed than average journal entries. This is good, because typically, I don't like novels written as journals. They miss too much information. But these don't. Beka Cooper is training to be a Dog (Police officer), so she's expected to keep a much more detailed journal.

The book is about a young girl, Beka Cooper, who is sixteen years old. She has trained to be a Dog, which is pretty much a police officer in the book's world. She's been assigned to two senior Dogs to tag along, and get some real world experience. Which can be rather frightening considering the type of neighborhood she has to help patrol. But something is happening. Two different threats are showing up. Kids are being kidnapped, with threatening letters being sent to the parents. The other danger is someone hiring people to dig holes for magical items.

Beka and her Dogs will have to rely on Beka's interesting ability. She's able to hear pigeons and dust storms who tell her stories. The wind has ears. But it also speaks to her, carrying the words from around the town. Carrying words of the dead as well. Will Beka Cooper be able to help her Dogs in uncovering the mystery before more people are harmed, or even killed..?

I quite enjoyed this book. I've started the second one, but haven't had a chance to finish it yet, though I do look forward to it. The characters are interesting, as is the story. While the book is Young Adult, I feel that the title might be off putting to some people, thinking that it's only for teenagers. Sure, the book is an easy read. There aren't a lot of big words, or a complex story line with a million characters to follow. But, that doesn't mean it's any less interesting. I quite enjoyed the characters and the story, and would recommend this book to others.

The book is also listed as fantasy. There are no dragons, or anything. The only fantasy aspect to the book is her listening to pigeons and dust clouds. She seems to be the only one able to do it. So there isn't a great deal of magic or creatures in this book, if that's what you happen to be looking for. She talks to her cat as well, and they seem to understand each other, sometimes. I'm not sure if that's because of magic as well, or they just both get along really well.

All in all, I enjoyed this book, and recommend it to others who are looking for an easy, enjoyable book to read.
Have you read this book before? Let me know in the comments!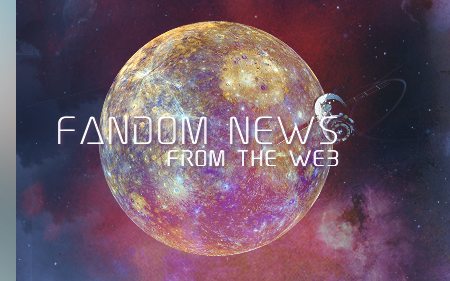 This month we have a brand new fandom news collector,
Nathalie (CL5)
! She has found us 16 great links to go through and find news on our favourite fandoms!
Some of these links may contain spoilers!
On to the News!


Star Wars
Galaxy's Edge Theme Park May Confirm A Popular Theory
Star Wars IX: Everything We Know So Far
Galaxy's Edge to Offer Guests Infamous Blue Milk
Holiday Special Reimagined in "The Force Awakens" Style Trailer

Star Trek
Hanelle Culpepper Will Direct Picard Pilot
The Evolution of Spock froma Scrapped Star Trek Pilot to Discovery
Discovery Will Show Star Trek's First Ever-Aliens

Lord of the Rings
Lord of The Rings Television Show And What We Know

Game of Thrones
Jon Snow Theory From the Posters
Character Posters and Emojis for Season 8 Released
Urban Decay Announces "Game of Thrones" Makeup Collection
Joe Dempsie on Fan Theories

Marvel
Annette Bening Hints About Supreme Intelligence's Relationship With Carol Danvers
Spider-Man: Far From Home and Everything We Know
Avengers: Endgame Clip Shows How Much More You See In IMAX
Samuel L. Jackson Doesn't Have Time for Avengers: Endgame Theories


Did you guys enjoy any of those links? Are you looking for news on any specific fandoms? Let us know in the comments!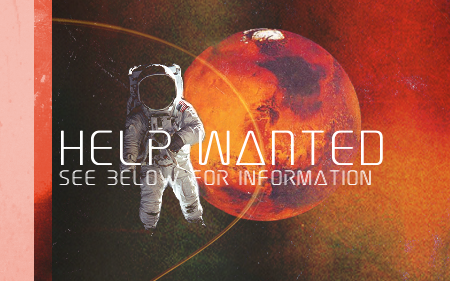 Do you love hanging out in the chat, but feel like you could be contributing to the community more? Then you've come to the right place for we have job openings that just might be the perfect fit for you!
The Blue Report
Here at the Blue Report, we always welcome new or returning contributors! If you would like to participate with the Blue Report with an article idea or any comments or suggestions, we will gladly accept your e-mail!
You can contact us
here
!
If the mailto option sends your computer into a complete terror, our e-mails are carol@outpost10f.com and lesliestank@gmail.com
The submission deadline is the 30th of this month and there are no CL or other requirements to submit an article or suggestion!