Letter From The Editor [by Leslie]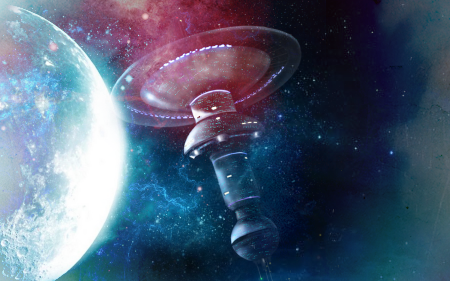 Is it October already? I know time is wibbly-wobbly and more relative than a Lannister... Wait, sorry, wrong type of relative...
Anyhoo. It does feel as though it was just last month that Carol and I took over as Blue Report Editors. What awesomeness it has been to be a part of this for over seven months. To not only have people contribute to the newsletter each month, but also to see a response to the newsletter of people reading and enjoying it. When we took over this project, I never expected it to come this far and I would just like to thank each and every one of you, contributors and readers alike, for being a part of the Blue Report. We will do our very best to try and provide editions worth reading!
With that in mind, please enjoy this month's edition! As per usual, we have a variety of articles that hopefully everyone will find something that they enjoy!
Bridge Crew Bulletin: Halloween Is Here [by Carol]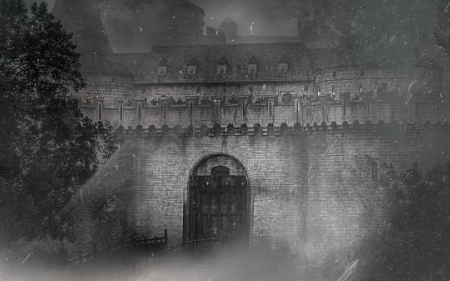 In a land far, far away sat a kingdom. In this kingdom a Queen and her advisers gathered. As they gathered in the main hall of the castle to discuss plans for the next few months unbeknownst to them all a storm of darkness was heading their way.
A stranger approached the doors to the hall. This stranger, an elderly man in a cloak with a walking stick, raised his right hand to knock. He gave pause and looked to the window at the sky with evil intent. As the Queen and her advisers settled in for a lengthy session signs of a storm began to show. Clouds darkened, wind whispered, and a chill filled the air. While exchanging the usual pleasantries a strong wind howled through the castle and thunder shook the walls. With a great howling gush of wind the hall door flew ushering in the stranger with a flash of lightning.
The Queen upon seeing the strange man in the hall stood immediately, "What is the meaning of this intrusion?!" She demanded without hesitation. The Queen's advisers stood quickly after to show their support behind their Queen. With all eyes upon him the elderly man hobbled forward with his walking stick. "Your majesty, lords and ladies," He croaked as he approached the table at which they stood. "I have come to deliver a warning." The advisory nearest to the old man turned and asked, "And who are you to deliver a warning? You queen demanded to know what the purpose of your intrusion is. Make yourself known." The old man cackled and eerily peered at them all. "Who am I, eh? Who am I..." He offered a foul smile and stood slightly straighter. "I am the keeper," The old man hissed in such a voice that would make any person shiver. "The keeper of what?" Demanded a different adviser. "The keeper of..." The old man paused for dramatic effect. "
The keeper of horrors!
" His voice echoed in the hall giving the Queen and advisers chills.
Taking a step forward and slamming his walking stick against the floor the Keeper of Horrors snarled, "I have come to bring a warning. A warning for one and all." He motioned with his right hand from each of the advisers to the Queen, "Heed this warning you shall or regret it you may! This, this is my warning..."
Upon the calendar turning to one,
a door was opened to another realm,
the realm of horrors is free once more.

Every creak and every groan,
every shadow and every whisper,
every chill and every fear,
horrors crawl near and near.

Don't answer your doors,
don't peak out your windows,
don't go out in to the night,
unless you wish a deathly fright.

We're certain to creep and crawl,
we're likely to bite and claw,
we're sure to howl and call,
we'll come for one and all.

Until the moon rises to it's highest on the thirty-first,
until the clock strikes upon the midnight hour,
we'll come out in our fullest power.
The old man cackled with laughter and receded from the hall in a wave a black smoke. As he departed thunder echoed and the wind howled once more. "What does this mean?" "What's happening?" "What will we do?" "Should we tell the people?" The queen's advisers spoke over each other immediately after the Keeper of Horrors disappeared from. Raising a hand for silence the queen look to her right and then to her left, "We will heed the Keeper of Horrors warning. And We must tell the people. We will warn them to keep their eyes open for spooky and frightful things.
For Halloween is upon us.
"
Keep an eye on the updates board for future Halloween related news and events!
Halloween Chat Specials Activated [by Carol]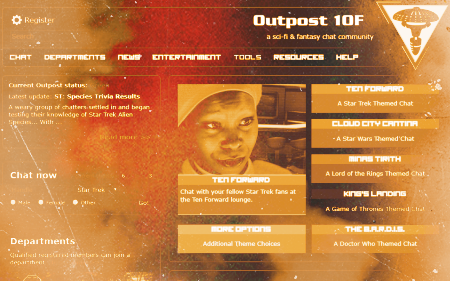 Hey guys!
So if you haven't noticed already the chat Halloween specials have been activated. What does that mean? Well that means a few things. That means there will be spooky events taking place in the chat, Halloween/special avatars have been activated, and the Halloween smilies are available! Exciting right? I think so!
Here's a quick break down of everything in case if this is your first Halloween at OTF...
SPOOKIES:
What are the spookies? They are random "scary" or "spooky" events that happen in the chat. They don't happen at the same time for everyone and there are a variety of the spookies. So just because you've seen one it doesn't mean you've seen them all.
Note:
If you don't want to see the spookies you can turn them off by going to the
Chat Settings
in your dossier/profile management system. Just scroll down until you see "Enable halloween effects" and uncheck the box beside it.
AVATARS:
The Halloween/special avatars are activated. That means there is a wide selection of avatars available. These avatars aren't just from the chat themes. There's Harry Potter, Supernatural, Underworld, and more. So check them out while they're available!
SMILIES:
Did you know that the chat has Halloween themed smilies? That's right it does! All you have to do is add an h to your regular smilie and you get a Halloween one. So instead of just doing :) use :h) and you'll get a special smilie that looks like

. And that's not the only one! There are 13 Halloween smilies altogether so check them out!
Come on it to the chat and check out the Halloween specials! They're all fun and kinda fantastic! Also keep your eyes open for any Halloween themed events that might pop-up!
Promotions and Awards [by Carol]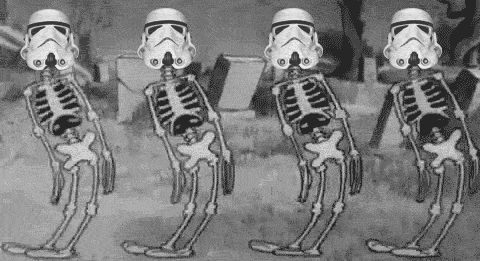 Hey chatters!
You may have noticed there were no
new
promotions this month. Don't worry! You were all still amazing and fantastic land mermaids! However; just to let you guys know, there were a lot of promotions handed out in August for the anniversary and that's why there were no promotions or awards for September.
Technically though there was
one
promotion! After a brief jaunt back in to the life of a CL4; because Guinan giveth and Guinan taketh,
Shannon is once again CL5
. Congratulations!
Enjoy the spycam, Shannon, but don't forget to come in and chat.
That's it for the month of September! Don't forget to work hard but play even harder!
Fun is where it's at.
Book Title: Phule's Company
By: Robert Asprin
Cover Artist: James Warhola
Publisher: Ace Books
Date Release: 1990
Genre: Science fiction, comic sci-fi, military sci-fi

After being court-martialed by the Space Legion for ordering the strafing of a treaty-signing ceremony, multimillionaire Willard Phule receives his punishment: He must command the misfit Omega Company on Haskin's Planet, a mining settlement on the edge of settled space. At his duty station, he leverages his personal money and a knack for managing people to get the company to come together as a unit.
Phule convinces the governor to leave the contract for an honorary duty up for competition between the Space Legionnaires and the Regular Army. The Army sends some of their most elite troops to take part in the competition, but Phule's company operates with their own unique tactics..
I've read the whole series of books (6 in total), however this review will just be on the first book of the series.
This is an older book, but it was recently recommended to me by a very good friend of mine. So I grabbed the book, and started to read. And it was a book that I didn't easily put down. The book reminded me a lot of the movie Down Periscope, which I really enjoyed. It's funny, but not in a way that makes fun of the military. There are a lot of metaphors, and play on words. The first obvious example is the main characters name, Phule.
The book starts off strong, and interesting. It's written as journal entries by Willard's butler, Beeker, however it's not really in the typical journal format, which was good, as I find some of those a little boring. But everything is from the view of the butler. You only see what he sees. The officers under Phule's command aren't the best of the best. They have their own skills and talents, and flaws. But the military doesn't know what to do with them, so they sort of hide them away. Tuck them off, and put them on missions that don't matter. It's then up to Willard, who thinks outside the box to get the officers to grow, and become some of the best officers there are. They're flawed characters, which helps to make them entertaining, interesting, and three-dimensional.
The book is very light-hearted, and an easy read. It's a great deal of fun, and would have made a great series of movies. It's a great book to pick up on those cold winter days that are approaching. Instead of going outside in the cold, curl up in bed, and enjoy a good laugh. The first couple of books are the best in my opinion, but I do recommend reading the whole series.
Have you read this book? Or any other books by Robert Asprin? Let us know in the comments below!
Movie Review: How It Ends on Netflix [by Carol]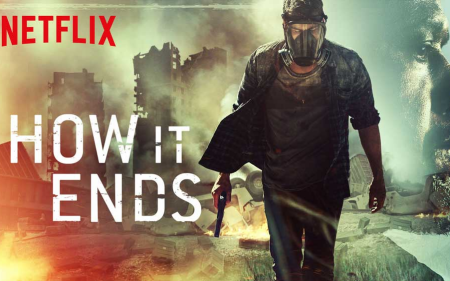 Netflix Summary for
How It Ends:
When a mysterious disaster turns the country into a war zone, a young lawyer heads west with his future father-in-law to find his pregnant fiancee.
Netflix labels
How It Ends
as
ominous
. I'm not entirely sure if I would agree. It also gives the movie the labels
post apocalypse
and
armageddon
; those two labels definitely apply. But ominous doesn't really fit. There is no sense of something "bad" going to happen after the main event takes place. I did have a couple of "what if" questions but they were mostly about characters you don't see after a certain point. Storyline wise? Meh; I couldn't really care less about what happened next.
The story isn't incredibly interesting and I don't honestly know how I sat through the whole 1 hour and 59 minutes. I didn't really care about what happened next, I wasn't overly concerned about the main characters, and I didn't really care about who the bad guy was. There was barely any character growth and zero intrigue. And I was disappointed because I expect more from a movie with Forrest Whitaker and Theo James in it.
Forrest Whitaker was a bright spot in this movie. His character, Tom Sutherland, although a little rough around the edges is easily relatable. I can easily say that his character went through the most (if only) character growth in the entire movie. Forrest Whitaker portrayed Tom brilliantly.
How It Ends is similar to
Cloverfield (2008)
in a few ways and not in positive ways either. (But to be fair, I guess, I wasn't a big fan of Cloverfield either.) It was slow, it tries too hard to be intense and psychological, and the characters are boring. And while it may leave you with more questions than answers you probably won't really mind if you never find out the answers.
So, would I recommend How It Ends?
No
. Not unless you have two hours to kill and don't mind a mediocre movie. Or unless you have two hours to kill and enjoy looking at Theo James. But if you're not sure still? Check out the
trailer
.
Have you watched How It Ends? Will you watch it? Let us know in the comments!
The Saskatchewan Entertainment Expo, which ran from September 15th to 16th 2018 in Saskatoon, Saskatchewan. Founded in 2013, the Saskexpo was created to promote pop culture and the arts, including comics, sci-fi, horror, toys, anime, cartoons and gaming.
This is my second year attending this expo. After visiting it last year, we decided that we had to come back. However, after the Ganbatte Expo in July, we were slightly worried that this one wouldn't be as good as last year. Last year, the expo costed $35, plus tax for the two days. This year, the event had the two day pass for $35, but they also added in the one day pass, for $25. That was what we opted for. We weren't spending the night like we did last year, so we were happy they added in a one day pass.
Unlike the Ganbatte Expo, we were happy for the most part with this expo. The layout wasn't as nice as it was last year, but we still spent far too much. Last year, the expo was split up a little better than it was this year. It also had a fun stamp event. You walked around to different exhibits, and got stamps. Once you collected all the stamps, you spun a wheel, and won a prize. Granted, the prizes weren't great, but it was still fun. It added something to do to the expo, other than just visiting different stalls, and seeing the media guests. This year, they got rid of that. We were also hoping for a stall to buy a blanket, like we did last year.
That said, we still had a wonderful time. We made up for not buying an hat at the last expo (We bought two), and we bought a lot more too. A Groot pillow, a unicorn reusable bag, cat ears, a wallet, mystery bags, and more. They had stuff for everyone, and a lot of it wasn't too expensive either. There were a lot of cosplayers at this one as well, unlike the Ganbatte expo. I didn't take any pictures of any, but there were birds, the Joker (The original), Gandolf, Starfleet officers, and more.
This was one of the expos we were really looking forward to. And other than some unwanted tag-alongs, I had a wonderful time. I really cannot wait for next years, where I hope it will be bigger and bigger.
There were some greats media guests attending as well, however we didn't stay for the media guests. Some weren't there when we were, and the tag-alongs made it rather difficult for us to see who we wanted to see. But hopefully next year I'll get to see a couple. They had Doug Jones, Gates McFadden, Jewel Staite, Jim Cummings, John Ratzenberger, Julian Glover, Ron Perlman, Trish Stratus and Veronica Taylor.
I highly recommend this expo to anyone's whose looking for a fun comic expo. The event is big, but not too big. It's not as big as the Calgary Comic and Entertainment Expo, but in a way, I am glad for that. Those ones are a little too crowded for my tastes. This one was perfect with 12,000 visitors over the two days.
Click here to check out some pictures from the expo!








With some lucky, I'll be going to another expo at the end of October in Winnipeg, Manitoba. The Central Canada Comic Con (C4) If I do, look for that review in Novembers issue of the Blue Report!
Have you gone to an expo that you enjoyed? Do you enjoy seeing the guests, or do you enjoy the shopping? Let us know in the comments!
Essential Tools of A Demon Hunter [by Carol]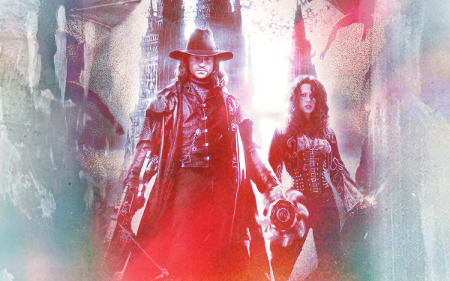 Van Helsing, Buffy, Scooby, Sam and Dean; these are all names of great demon hunters through the ages. For these demon hunters the job never ends. They're always on the clock and 9 to 5 doesn't exist. And Halloween is their busiest day of the year.
Every decent demon hunter who knows what they're doing always comes prepared. You can't just tackle a ghost and set a trap like the Ghostbusters. A demon hunter has to be prepared to face anything. Facing off with demons, ghosts, vampires, and so on requires a specific arsenal so before you run off to find Sam and Dean you might want to pick up a few these things.
Disclaimer:
Demon Hunter isn't a real job. So don't go slaying any "vampires" and keep in mind this article was written for
fun
.
Click here to check out the Essential Tools of A Demon Hunter!


A Flashlight:
A flashlight is the basic tool that every demon hunter will need. Spookies only come out at night and you don't want to be caught in the dark trying to find a zombie. So grab a flashlight!

Garlic/Wolfsbane:
Vampire? Werewolf? No problem! Carry garlic and wolfsbane on you! According to myths vampires hate garlic and werewolves hate wolfsbane.

Salt:
Salt is great for protecting against evil. Pour some across your window opening, your doorway, heck pour some in a circle around you. Salt will stop ghosts or evil from getting to you!




Lighter/Matches:
A lighter or match can come in handy. Lights go out and you don't have a flashlight? Make a torch. Want to scare a vampire? Light a match and throw it at the vampire.

Iron:
Got a fairy or pixie problem? Don't worry! They can't touch iron. Just place a few pieces of iron where the fairies like to show up and bam! Fairy problem solved. Iron is also great for disrupting ghosts and making them go away.

Holy Water:
Holy water is super great. It's useful against every demon or evil spirit you may encounter. Plus if you get thirsty on the job? You can have some holy water.

Stake/Crossbow:
A stake is essential when dealing with vampires. You have to stake them in the heart after all. Just think of all the stakes Buffy had to carve. A crossbow works too! It's just a long range stake.




Rope/Net:
For whatever reason, you may find yourself wanting to capture a demon or evil pixie so bring a net. A rope can also be used to tie up a vampire or werewolf. The rope can also be used when trying to rescue somebody while demon hunting.

A Cross/Protective Talisman:
As seen in many movies a cross proves pretty effective against vampires. A cross can also be useful against demons and evil spirits. So either get yourself a cross or find a nice witch to enchant you a nice protective talisman.

When you go out this Halloween to trick-or-treat bring a little salt with you just to be on the safe side! Also go with a friend and definitely bring flashlight! Trick-or-treating is way more fun with a buddy!
Who is your favourite demon hunter? What are you dressing up as for Halloween? Let us know in the comments!
On September 23rd, 2018, the Japaneses landed a probe on the surface of 162173 Ryugu, an asteroid that's currently about 280 million kilometres (170 million miles) away. The Japan Aerospace Exploration Agency (JAXA) launched the probe on December 3rd 2014 from the Yoshinobu Launch Complex at the Tanegashima Space Centre.
162173 Ryugu is a primitive carbonaceous near-Earth asteroid. What this means is it is expected to preserve some of the most pristine materials in the Solar System. A mixture of minerals, ice, and organic compounds. It's expected that we'll be able to gain additional knowledge on the origin, and the evolution of the inner planets, including the origin of water, and organic compounds on Earth.
The probe Hayabusa2 has four rovers that will land on the surface of the the asteroid. Mobile Asteroid Surface Scout (MASCOT), Rover-1A, Rover-1B, Rover-2. Due to weak gravity, none of the rovers have wheels. To move, they will hop around.
Rover-1A and Rover-1B are the two that landed on the surface on September 21st, 2018. They are identical and are cylindrical in shape. Measuring 18 cm diameter and 7 cm tall, and a mass of 1.1 kg (2.4 lb) each, they will designed and developed by the JAXA and the University of Aizu.
The other rover that was devoted by JAXA and the University of Aizu is ROVER-2. This rover is octagonal prism in shape and is 15 cm diameter and 16 cm tall (5.9 × 6.3 in), with a mass of about 1 kg (2.2 lb). The rover is expected to land in 2019.
Mobile Asteroid Surface Scout (MASCOT) however was developed by the German Aerospace Center (DLR) and the French space agency National Centre for Space Studies (CNES). This rover is larger at 29.5 cm × 27.5 cm × 19.5 cm and has a mass of 9.6 kg (21 lb). However, while the other three rovers have solar panels to recharge themselves, the MASCOT has a Non-rechargeable battery which will only last for about 16 hours. This rover is expected to land on the asteroid on October 3rd, 2018.
What really makes this mission interesting is that samples will be returned to Earth. The probe bump into the asteroid slightly, and take a small sample of the surface of Ryugu. Hayabusa2 will then fire a small projectile with an explosive propellant charge to gather a sample of the subsurface of the asteroid. This sample will provide researchers with a sample that hasn't been space-weathered.
On December 2019, when the probe will use its ion engines to leave the asteroid, and head back towards Earth again. A year later, in December 2020, the re-entry capsule will depart from the probe, and land in Woomera, Australia. With some luck, a space alien won't be aboard the samples.
You can track it's progress from their Twitter page.



Here are some images that have so far been sent back to Earth.







What do you think of the images that have been returned? What are you thoughts on returning samples back to Earth? If an alien is present onboard, how do you plan on surviving the occupation?
Classic Halloween Movies Worth Watching [by Carol]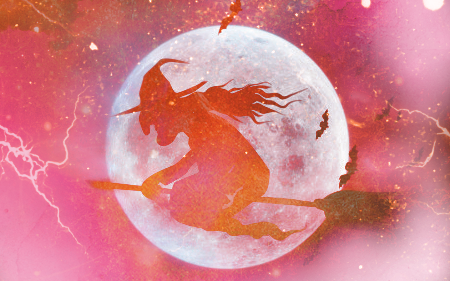 Halloween is the most wonderful time of the year!
Yes, yes. I know that Christmas is supposed to be the most wonderful time of the year. But some of us happen to like Halloween better.
Anyway getting back on track. For many people Halloween means trick-or-treating or parties. And for countless other people Halloween means sitting back with a snack, a glass of wine (or a cup of hot chocolate), and watching our favourite Halloween movies. And if you happen to be one of the Halloween movie watchers? I've compiled a list of 6 "Classic Halloween Movies Worth Watching" that you
might
enjoy.
Note: If you enjoy super scary movies? You probably won't like any of the movies I have listed.
Click here to check out the movies!





Young Frankenstein (1974):
This is what I would call a "classic comedic horror" film. It's a hilarious retelling of the Frankenstein story. In Young Frankenstein it's Dr. Frankenstein's grandson, Frederick. Frederick, after inheriting his grandfather's estate, travels to Transylvania to recreate his grandfather's experiments with the help of hilarious servants. Gene Wilder who plays Frederick does a fantastic job and the movie is wonderful. It's also totally family friendly so that's a win!




High Spirits (1988):
High Spirits is a funny and crazy ride. It's very cheesy and probably really couldn't be defined as a "horror" film despite two ghosts being main characters. But it's delightful and a lot of the jokes are really dirty. High Spirits is actually one of my favourite movies in general; I can watch it any time of the year. If you're interested in seeing Liam Neeson as a ghost? Check it out!




Transylvania 6-5000 (1985):
Transylvania 6-5000 is defined as a "comedy horror" according to IMDB and they're not wrong. It is comedic. It's also a "horror" film but I would use the term loosely. The movie is far from scary. While there may be monsters in the movie they're far from scary and the focus is really on the humour in the movie. Like High Spirits and Young Frankenstein it's just a fun ride and worth checking out. (Also? I seriously love this movie. I saw it once on VHS and later on took a couple of years hunting it down to get it on DVD.)




Dracula: Dead and Loving It (1995):
Leslie Nielsen is notoriously hilarious so it's no surprise that his take on Dracula? It's a hoot and a half. While arguably a stupid movie Dracula: Dead and Loving It is a must see. If you're a huge fan of the Dracula story and lore? You might find this movie slightly offensive. Or, if you're like me, you'll still find it completely enjoyable.




Halloweentown (1998):
Halloweentown is definitely a family friendly movie for Halloween. Even the bad guy can pass for adorable when he gets his ugly on. But Halloweentown is about a 13 year old girl who learns that she has magical powers and comes from a long line of witches. Any Harry Potter fan will either love this movie or feel slightly offended by it. Either way it's incredibly enjoyable and Debbie Reynolds is fantastic in it as Aggie Cromwell.




Hocus Pocus (1993):
Saving the best for last we have the wildly fantastic Hocus Pocus. This movie takes you on an epic ride featuring the fabulous Sanderson sisters. You will laugh, you will gasp in shock, and you might even cry (possibly from laughing so hard). Hocus Pocus is arguably a cult classic. I can easily call this movie my all time favourite Halloween movie. In fact most of the people I know call Hocus Pocus their favourite Halloween movie. If you like witches, sassy talking black cats, and laughing? Check out Hocus Pocus! Or else I'll put a spell on you.

Have you seen any of these movies? Are you going to check any of them out for Halloween? Let us know in the comments!
Pokemon Go Special Quest [by Leslie]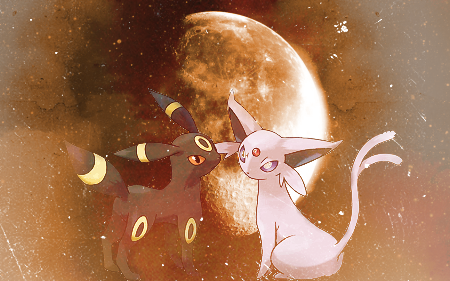 It has been half a year since the Special Quests have come out in Pokemon Go and they've finally updated it with a brand new one! Since I've been out of the chat for quite some time, I'm not sure how many members still frequent Pokemon Go. On the chance that there are still some chatters that play, I've looked at the new Special Research Quest to see what needs to be done to finish it. Another surprise Magikarp evolution wasn't something that was particularly fun to have to do near the end of the quest.
Full disclosure, I'm still on the second task. This list of tasks has come from
the Pokemon Go Gamepress
A taskful list with a helpful hint.



First Task


Power up Pokemon 5 times
Battle in a Gym 2 times
Battle in a raid



Second Task


Make 3 new friends
Evolve an evolved grass-type Pokemon
Catch a Pokemon 3 days in a row



Third Task


Use a Sun Stone to evolve Gloom or Sunkern +
Reach Level 25
Hatch 9 eggs



Fourth Task


Evolve Eevee into Espeon during the day *
Walk 10 km with Eevee as your buddy to earn Candy
Send 20 gifts to Friends



Fifth Task


Walk 10 km with Eevee as your buddy to earn Candy
Evolve Eevee into Umbreon at night *
Trade a Pokemon



Sixth Task


Visit PokeStops 7 days in a row
Use 25 Pinap Berries while catching Pokemon
Use items to evolve Pokemon 2 times



Seventh Task


Catch 40 Grass- or Psychic-type Pokemon
Make an excellent curveball throw
Earn a gold Johto medal



Final Task
Catch Celebi

+ If you don't already have a Sun Stone, don't fret. The Second Tasks has it as one of the rewards for completion.
* There are a couple of ways to make sure you get the Eevee evolution you want. These tasks are specifically designed to easily get your evolution. However you need to follow them exactly to get your Espeon and Umbreon. First complete the task of walking 10 KM with the Eevee as your buddy. Making sure you earn 2 candies with your Eevee. Then with it still as your buddy, you can evolve it during the day for the Espeon or night for the Umbreon. That simple, two tasks wtih one Eevee, so to speak.


Good luck, and feel free to leave any suggestions in the comments or if you're looking for new friends for the second task, try leaving your code in the comments to see if you can find a new one.
Back in July, it was announced that CBS would be doing several Star Trek shorts. They would be short stories, centered around one character from Star Trek Discovery. There would be four stories, each ranging in length from 10 to 15 minutes long. They weren't joking when they called them shorts.
The stories would focus on Sylvia Tilly (Mary Wiseman), Harry Mudd (Rainn Wilson), and Saru (Doug Jones) A new character will be introduced as well that will be played by Aldis Hodge. Jean-Luc Picard (Sir Patrick Stewart) is of course returning, but his scripts are still on the drawing board, and won't be ready for a while yet.
It has now been revealed when the first Trek Short would air, along with a trailer. October 4th, 2018, the first will appear on CBS All Access, with Sylvia Tilly. The Trek Short is titled "Runaway", and the trailer is below.
It's not known at this time when the short will appear on the Space channel for Canadians, or on Netflix for viewers outside of the United States.

UPDATE For Canadians: It's just been revealed that the Space channel will show the shorts at the same time they appear on the CBS All Access site. They will then appear on CraveTV the following day. So Runaway will air at 9pm ET on Oct. 4th on Space, and will be on CraveTV on Oct. 5th at 9pm ET.
Some information on all four of the shorts has been released:
"Runaway" (Thursday, Oct. 4) - Onboard the U.S.S. Discovery, Ensign Tilly (Mary Wiseman) encounters an unexpected visitor in need of help. However, this unlikely pair may have more in common than meets the eye.
Written by Jenny Lumet and Alex Kurtzman. Directed by Maja Vrvilo.
"Calypso" (Thursday, Nov. 8) - After waking up in an unfamiliar sickbay, Craft (Aldis Hodge) finds himself on board a deserted ship, and his only companion and hope for survival is an A.I. computer interface.
Teleplay by Michael Chabon. Story by Sean Cochran and Michael Chabon. Directed by Olatunde Osunsanmi.
"The Brightest Star" (Thursday, Dec. 6) - Before he was the first Kelpien to join Starfleet, Saru (Doug Jones) lived a simple life on his home planet of Kaminar with his father and sister. Young Saru, full of ingenuity and a level of curiosity uncommon among his people, yearns to find out what lies beyond his village, leading him on an unexpected path.
Written by Bo Yeon Kim & Erika Lippoldt. Directed by Douglas Aarniokoski.
"The Escape Artist" (Thursday, Jan. 3) - Harry Mudd (Rainn Wilson), back to his old tricks of stealing and double-dealing, finds himself in a precarious position aboard a hostile ship - just in time to try out his latest con.
Written by Michael McMahan. Directed by Rainn Wilson.
Rainn Wilson also shared a picture of himself as Harry Mudd with two Orion's.
And of course, we can't forget about the return of Picard. Sir Patrick teased everyone with an image of him and the writing team on Twitter.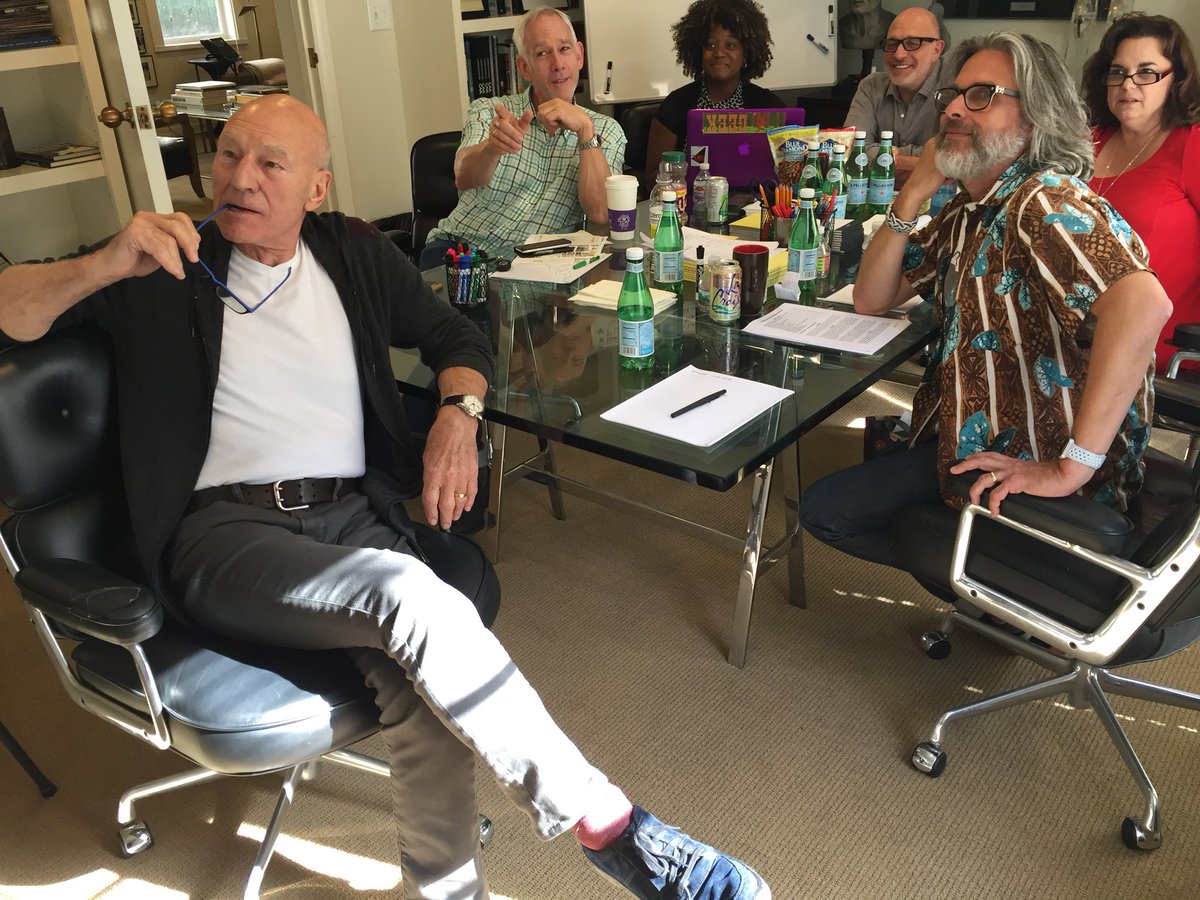 Are you looking forward to this? What are your thoughts on the shorts? Let us know in the comments below!
DIY Halloween Decorations [by Carol]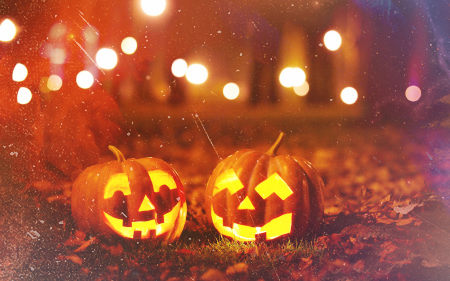 Hey guys!
Every year around this time I start searching Amazon and Etsy for Halloween decorations. I also start searching Google for decorating ideas. Why? Well I have a few reasons...
I freaking love spooky stuff.
Halloween is my ultimate favourite holiday.
Every year I think to myself, "I'm going to throw an amazing Halloween dinner party so I need to decorate!"
Even though I will probably never throw that awesome dinner party I keep looking. And this year while looking for ideas I came across some pretty cool DIY decorations. A couple of the ideas were fandom based and the thought occurred to me that it'd be pretty cool to have Geeky Halloween decorations. So my Halloween decor mission change to, "Seek out new ideas and to boldly Geek them where no man has Geeked before."
So without further delay here are those DIY Halloween decorations and my suggestions on how to make them on the Geek Side of the force.
Click here to get crafting!


Wriggling Snake Wreath:
I found this wreath idea on Martha Stewart's website. It's pretty easy to do and simple. You can check it out here. If you want to add Geeky touch to it? Maybe swap the snakes for some small spiders and a larger one so it could be a "Aragog and the Forbidden Forest" wreath.

Harry Potter Floating Candles:
One of the coolest locations in Harry Potter is the great hall at Hogwarts. The ceiling is enchanted to behave like the sky and often when it's stormy or night there will be floating candles above the tables in the hall. I found this tutorial on how to make your own floating candles.




Pumpkin Carving:
Every year I get a huge kick out of nerdy/geeky jack'o'lanterns. They both amuse and impress me. And with a quick Google search you can pretty much find easy how-to guides for carving anything such as R2D2 and the Death Star.

Stranger Things Lights:
One of the most iconic scenes from season one of Stranger Things is when Will communicates with his mom using the Christmas lights she strung up and the letters she painted on the wall. With some Christmas lights and construction paper this would be an easy way to decorate. If you want to go a little more hi-tech with it? Check out this page.




Painted Terracotta Pots:
Need some place to stash candies? Or spiders? Try these painted pumpkin terracotta pots. They would be easy to Geek up. You could paint Harry Potter Houses on them, Star Trek symbols, Star Wars droids, or whatever strikes your fancy.

Jar Lanterns:
Do you have some empty jam jars laying around? Some black tissue paper? Well have I got the DIY for you! Nerdy Halloween Jar Lanterns!

Halloween Themed Cloche:
While this Halloween cloche is super pretty it's also super easy to make Geeky. Swap out the bats for cutouts of tie fighters, paint the pumpkin silver and black, and boom you have a Star Wars Halloween Cloche!

Decorative Bowl:
This easy DIY project uses leafs to make a decorative autumn bowl but you can Geek it up a couple of ways. You can either print off pictures from your favourite shows and use those. (Either a bunch of different shows or pictures from one show would work.) Or you can use comic strips. Check out the steps to making the bowl over here.

Canvas Light Art:
Want something to throw on your walls other than some fake blood and Christmas lights? Check out this easy canvas light art project. If you want to make it on the Geekier side? That's easy enough to do! Just go to your local dollar store or Walmart and find a cheap stormtrooper mask. You can smudge some grey paint on it to make the mask look like it's seen battle and maybe add some fake blood. Once you do that use it in place of the owl.

What did you think of these Halloween DIY decorations? Did you make any of them? Let us know in the comments!
Ad: Flaterectomy [by Carol]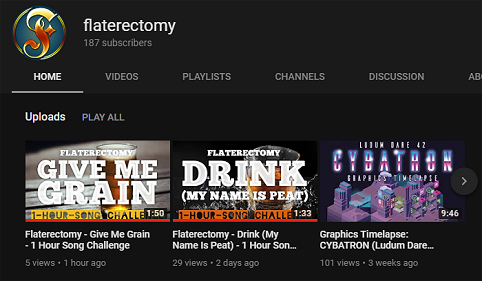 Do you like music? Cool videos? Original content?
Well then come on down and check out Flaterectomy!
It's guarantee to tick all of your boxes and entertain!
Author's Note:
Flaterectomy is the YouTube channel of our one and only Michiel! For the official record; he didn't ask for his channel to be our advertisement of the month. I just really love his songs Black Gold, Give Me Grain, and Drink; so go check them out!!
It's Carol's favourite time of year. Pumpkin Spice Latte season! And on October 8th, it will be Thanksgiving for those living in Canada. And what does every Thanksgiving feast need? A dessert of course! Well, friends and family too.. But they will be wanting dessert as well, so it's time to grab some pumpkin puree, grab those measuring spoons, and start baking!
I wanted to make something with pumpkin for someone, and happened across this recipe. So I decided to give it a try. Now, mine didn't quite turn out like theirs did.. But then again, I'm a little out of practice, so I'm sure that's what the biggest problem was. I haven't done much baking for several years. But, while it didn't look the greatest, it tasted great! I was pleased with how it turned out. As did the someone I baked it for, who is quite picky when it comes to food. Since it passed her judgement, I knew it was good enough to post here.
View the recipe here!


Ingredients:
Pumpkin Roll Ingredients:

3/4 cup all-purpose flour
1/2 teaspoon baking powder
1/2 teaspoon baking soda
1 teaspoon ground cinnamon
1/2 teaspoon ground ginger
1/4 teaspoon ground nutmeg
1/4 teaspoon ground cloves
1/4 teaspoon salt
3 large eggs
1 teaspoon vanilla extract
1 cup granulated sugar
2/3 cup pumpkin puree

Cream Cheese Filling Ingredients:

1 (8 ounce) brick cream cheese, room temperature
1 cup powdered sugar, sifted
6 tablespoons butter, softened
1 teaspoon vanilla extract

Directions:

Preheat oven to 375F. Line a 15 x 10-inch cookie sheet with parchment paper, leaving an extra inch on either side of the pan so that you can easily lift the cake out after baking. (To get the parchment to stick to the bottom of the pan, sprinkle a little bit of water on the pan and then press the parchment paper on top of it)
Whisk together flour, baking powder, baking soda, cinnamon, ginger, nutmeg, glove and salt in a large mixing bowl until combined.
In a separate bowl, whisk eggs and granulated sugar for 1 minute until thick. Add in the vanilla and pumpkin, and whisk until just combined. Fold in the flour mixture with a rubber spatula, and stir together until just combined.
Spread the batter evenly into prepared pan. Bake for 13 to 15 minutes, or until top of cake springs back when touched. Carefully lift the parchment paper and cake out onto a flat (and heat-safe) surface. Then slowly, use your hands to roll the cake - rolling from the short end to the short end - until it is completely rolled up. Transfer the cake roll to a wire rack, and cool until it reaches room temperature.
While the cake is cooling, it's time to start on the filling.
Whisk together cream cheese, powdered sugar, butter and vanilla extract in a mixing bowl until smooth. If the filling is too thin, add more powdered sugar. If it is too thick, add a half teaspoon or two of water. (You want a medium consistency so that the filling is easy to spread, but not too warm or thin that it will ooze out of the cake when you're rolling it up.)
Once the cake has reached room temperature, transfer the cake roll to a flat surface, and carefully unroll it until it is flat again (This is the part where mine kinda fell apart..I don't think I let mine cool enough..). Spread the cream cheese mixture evenly over cake, leaving a 1/2-inch border on all sides. Then carefully re-roll the cake, gently peeling away the parchment paper as you roll until you can completely remove and discard it. Tightly wrap the pumpkin roll in plastic wrap and refrigerate at least one hour.
Remove and unwrap the pumpkin roll and transfer it to your serving dish. Lightly dust the pumpkin roll on all sides with powdered sugar, if you would like. Then slice* and serve.
If you have leftovers, just re-wrap the pumpkin roll in plastic wrap and store in the refrigerator for up to 5 days. Or freeze for up to 3 months.
Do you enjoy pumpkin spice season? What's your favourite Thanksgiving dessert? Leave a comment below!
The Invasion of Pumpkin Spice [by Leslie]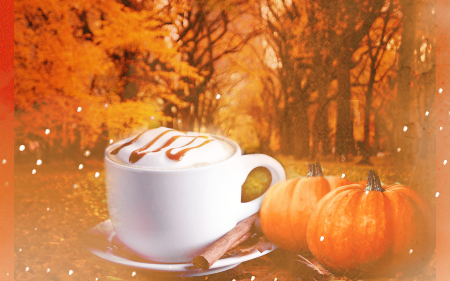 It's that time of the year again! The time of the Fall Harvest Invasion! Sorry, the Pumpkin Spice Invasion! The most basic time of the year, everywhere you turn you're bound to have something pumpkin spice flavoured shoved in your face. Some of us enjoy it, some of us not so much. It makes you wonder what all the fuss about Pumpkin Spice is even about.
The Great Pumpkin Spice Invasion That Never Went Away


Just because a Starbucks PSL sounds delicious when fall comes around, or late August as was the case this year, doesn't mean we neede blame Starbucks for this craze. Wait, no it is all their fault. After all, it was Starbucks that decided they need a little more pumpkin in their coffee. In 2003, despite the misgivings of Tim Kern, and other employees, that the domination of pumpkin flavour in their coffee wouldn't be good for Starbucks' reputation, the company went ahead to their "Liquid Lab" to try and create their new drink.

A team lead by Peter Dukes, the director of espresso Americas at Starbucks, literally sat around eating pumpkin pie and drinking espresso until they could decide on the taste of their new drink. A drink that almost had the name of Fall Harvest Latte, which just isn't as catchy. After finding their prototype, they tested it at 100 stores and found their success that may never die.

"Pumpkin Spice" typically is made up of a mixture of nutmeg, cinnamon, ginger, and cloves which have been around for a long time. In fact nutmeg has been traced back to being used at least 3,500 years ago. As such, the original syrup contained those ingredients, caramel syrup for colouring and absolutely no pumpkin whatsoever. It was actually only in 2015 that Starbucks changed their recipe to include pumpkin puree.

What is it about the drink that gets a vast amount of people anxiously awaiting the season every year? For one thing, the actual combination of spices have been found in an Amelia Simmons' cookbok from 1798. It has been used in recipes since then and possibly even before then as well. Which means, a lot of us has had "pumpkin spice" whether we knew it or. Scientifically, the recognizable odour, combined with the mass amounts of sugar added to our drinks, makes the Pumpkin Spice Lattes literally addictive. Not in the same way as drugs, but still addictive.

Addictive enough that 72% of the people anticipating the drink will usually only buy one per season, with only 8% coming back frequently for the delicious treat. Just as importantly, addictive enough to market the pumpkin spice treats widespread and in some cases unnecessarily. From Oreos, Candy Corn, Yoghurt, to lip balm and a variety of alcohol. You'll never run out of pumpkin spice options, whether you willing open your doors to the invasion or consider it a very hostile take over.

At least there's some science behind those of us proudly displaying how basic we are in the chat.

Source Source Source Source Source

Don't forget to go out and get yourself a Pumpkin Spice Latte or at least something nice and "pumpkin" flavoured!
Well, the Blue Report wouldn't be the Blue Report without a potato article. Originally I was going to do a recipe, but I didn't get the chance to try it out. So, next month I'll make sure to try it out. If it's good, it will be in Novembers issue. So, instead, I leave you all with The Potato Song!
It's such a catchy song too.. Is the song stuck in your head as well? Let me know in the comments!
Fandom News From The Web [by Missy]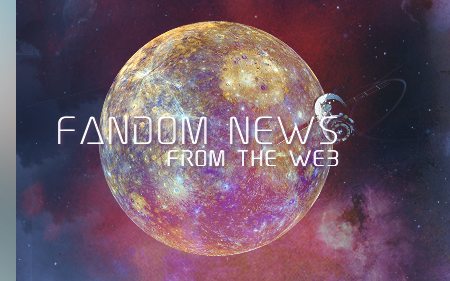 Hey everyone! After her lengthy hiatus,
Missy (CL5)
has returned to provide you with some links from varying fandoms that you might find interesting! So, sit back and enjoy the selection of outside articles brought to you!
Warning: There might be spoilers!


House With a Clock in Its Walls tops box office
Birds of Prey movie sets 2020 release date
Game of Thrones epic sets to open as tourist attractions
Alias alum Michael Vartan to guest star on God Friended Me
Bumblebee trailer decoded
Fantastic Beasts sequel: 10 new character photos reveal story clues
Kingsman 3 set for 2019
Men in Black spin-off set photos
Joker and Harley Quinn spin-off writers tease a Bad Santa, This Is Us mashup
Series 11 of Doctor Who Sci-Fi Naturalism
Neil Gaimen's Doctor Who Experience Left Bad Taste In Mouth
Star Wars Jon Favreaus TV Series Details The Physics of Chewbacca Falling Out Of A Moving Train
Everything We Know About Outlander Season 4 So Far
Does Venom connect to Spider-Man and the Marvel Cinematic Universe?
'Dark Phoenix' director Simon Kinberg didn't want to include 'X-Men' in the title

That's it for this round of "Fandom News"! Did any particular article catch your eye? Would you like to see news from a certain fandom? Let us know in the comments!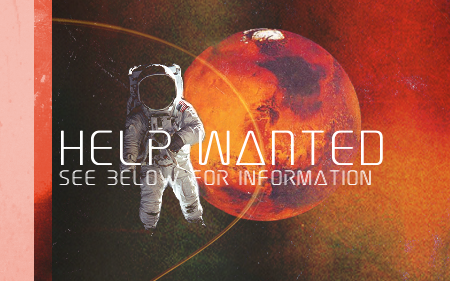 Do you love hanging out in the chat, but feel like you could be contributing to the community more? Then you've come to the right place for we have job openings that just might be the perfect fit for you!
The Shuttle Bay
The Gaming Team is looking for applicants to fill the following positions:
Team Leader
Assistant Team Leader
Member
You can apply for any of the above positions by emailing
AJ and Brent
. Ensure you include your chat handle and preferred method of contact in your email.
Should you wish you apply for a leadership role, also include the following information:
Position interested in
Any Relevant Experience
Statement of Interest
As either a Team Leader or member, you will have the opportunity to shape the direction and really make the Gaming Team flourish as we move forwards!
Note: If you'd like to know more about the positions before applying to them? You can always email AJ and Brent! They'll welcome the inquiry.
The Holodeck
Blue Report Contributors
Anyone wishing to be a Blue Report Contributor may e-mail
Carol and Leslie
.
Please include in the e-mail:
Your name
Dossier #
Type of article(s) you would like to write
The deadline for submissions is the 30th of every month.
If you have any question about The Blue Report please feel free to ask Leslie or Carol in chat.